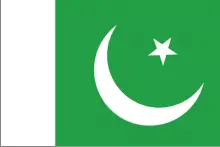 The national cricket team of Pakistan recorded its only World Cup victory in 1992, when the team defeated England in the final.
The victory was astonishing considering that the team had lost 4 of their first 5 matches of the tournament and were nearly eliminated in the first round playing against England, until the match was abandoned due to rain.
Captain Imran Khan famously urged the team to play like "cornered tigers" following their initial defeats in the competition and the team subsequently went on to win five successive matches including a thrilling semi final victory against host nation New Zealand.
The semi final victory over New Zealand was particularly memorable for the emergence of Inzamam-ul-Haq who, at the age of just 22, hit 36 runs off 30 balls. This feat turned the tide of the encounter and Inzamam-ul-Haq went on to become one of the best batsman Pakistan has ever produced.
Cricket World Cup Victories
Australia: 4
West Indies: 2
India: 2
Pakistan: 1
Sri Lanka: 1