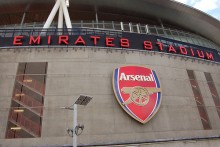 Arsenal F.C, a professional football club from north London are one of the most successful teams in the history of English football. In total, the team has won the top tier of English football 13 times, the FA Cup 10 times, the League Cup twice, the Community Shield 12 times and the European Cup Winners' Cup and Inter-Cities Fairs Cup once apiece.
Arsenal was founded in 1886 by workers from the Royal Arsenal armaments factory in Woolwich, London, and by 1893 the club had joined the Football League, becoming the first southern club to do so. The club then migrated to Highbury in 1913 and had its first taste of victory in 1930, when the team won the FA cup and triumphed in the first division the following year. Arsenal holds the record for spending the most seasons in the top tier of English football and the team has a fierce rivalry with north London neighbours Tottenham Hotspur.
Arsenal F.C Victories
First Division/Premier League: 1931, 1933, 1934, 1935, 1938, 1948, 1953, 1971, 1989, 1991, 1998, 2002, 2004. (13)
FA Cup: 1930, 1936, 1950, 1971, 1979, 1993, 1998, 2002, 2003, 2005. (10)
League Cup: 1987, 1993. (2)
FA Charity Shield/Community Shield: 1930, 1931, 1933, 1934, 1938, 1948, 1953, 1991, 1998, 1999, 2002, 2004. (12)
European Cup Winners' Cup: 1994. (1)
Inter-Cities Fairs Cup: 1970. (1)
Arsenal finished as runners up in the UEFA Champions League in 2006, and the team has achieved the third most league victories (behind Manchester United and Liverpool). The club also holds the record for the longest unbeaten run in the premier league (49 games). Furthermore, Arsenal are the only team to have gone an entire Premier League season unbeaten (2003-2004).