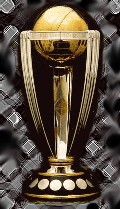 So far ten Cricket World Cups have been played, with the first three tournaments all being hosted by England. The first competition was held in 1975 and since then the tournament has been a quadrennial event. In contrast to what we associate with the event nowadays, the teams played in whites, used a red ball and the games were 60 overs in length in the early competitions. Fielding restrictions were not adopted until the 1983 tournament.
The Cricket World Cup was the first sporting event of its kind to be hosted in all six inhabited continents, it is also the world's fourth largest and fourth most viewed competition and victory in the World Cup is considered to be the pinnacle of success in the sport.
Australia have been the most successful nation, winning the tournament four times, including three consecutive victories in 1999, 2003 and 2007. India and the West Indies have won the competition twice apiece and Pakistan and Sri Lanka have won the World Cup once each. England have been in the final three times but as yet have never come out victorious.
Cricket World Cup Finalists
1975: Australia Vs West Indies - The West Indies win by 17 runs.
1979: England Vs West Indies - West Indies win again, defeating the hosts by 92 runs.
1983: India Vs West Indies - Underdogs India beat the West Indies by 43 runs.
1987: Australia Vs England - Australia edge England by 7 runs, the closet win margin in history.
1992: Pakistan Vs England - Pakistan win by 22 runs, despite a dismal start to the competition.
1996: Sri Lanka Vs Australia - Sri Lanka defeat Australia by seven wickets.
1999: Pakistan Vs Australia - Australia win by eight wickets, the first of three consecutive wins.
2003: India Vs Australia - Australia crush India, winning by 125 runs.
2007: Sri Lanka Vs Australia - Australia win by 53 runs (D/L) in controversial light conditions.
2011: India Vs Sri Lanka - India win on home soil, beating the Sri Lankans by 6 wickets.