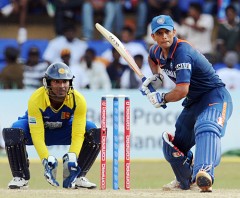 The first One Day International cricket match was played between England and Australia on 5th of January, 1971 at the Melbourne Cricket Ground, with Australia winning by 5 wickets. The match was shortened because the first three days of the scheduled third test in the series had been abandoned due to rain.
Following this match, Australian entrepreneur Kerry Packer introduced the World Series Cricket competition which featured colored uniforms, matches played under floodlights, multiple television cameras and the use of a white cricket ball. This was the beginning of the now established ODI format of the game. 
One Day International Cricket (ODI)
A One Day International cricket match is a match that is played between two teams for 50 overs. Unlike test cricket which has a limit of five days, ODI cricket matches end in one day.
The ODI has almost the exact same rules as a test match except for the 50 overs per side limit rule - which means that ODI matches are played at a much quicker pace than test matches, and can therefore be a more exciting spectacle for fans.
The Cricket World Cup
The most important tournament in international cricket - the World Cup - is an ODI event, as is the Champions Trophy. In addition, ODI's are commonly played in a separate series to the test match series when a team goes on tour.
To play ODIs the ICC has to grant a team ODI status, and all the test-playing nations currently have permanent ODI status, while six other nations have temporary ODI status. The temporary four year status is awarded based on the top six finishing positions at the ICC World Cup Qualifier.
Teams that have permanent ODI status and the year it was granted -
Australia (1971)
England (1971)
New Zealand (1973)
Pakistan (1973)
West Indies (1973)
India (1974)
Sri Lanka (1975)
Zimbabwe (1983)
Bangladesh (1986)
South Africa (1991)
Teams that have temporary status until the 2013 world cup qualifier and the year it was granted -
Kenya (1996)
Canada (2006)
Ireland (2006)
Netherlands (2006)
Scotland (2006)
Afghanistan (2009)