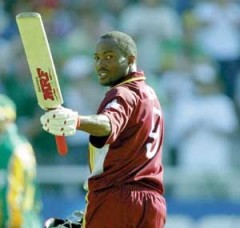 The record for the highest amount of runs scored by an individual batsman in a single test match innings is held by Brian Lara, who scored 400 not out in a test match against England in Antigua in 2004. Lara is a former West Indian cricket player who is recognized as one of the greatest batsman to ever play the game.
Born on the 2nd of May 1969 in Trinidad and Tobago, Lara made his test cricket debut for the West Indies against Pakistan in 1990, and made his first test match century in 1993. Not only did Lara break the record for scoring the most test match runs in a single innings once - he did it twice! The first occasion occurred in 2003, when he scored 375 against England in Antigua; and Lara then surpassed this feat the following year, when he scored 400 not out against the same opposition.
Brian Lara also holds the record for scoring the most runs in a first class game, after he scored 501 not out for Warwickshire against Durham in 1994.
Highest individual test cricket scores:
Brian Lara - 400 (not out)
Matthew Hayden - 380
Brian Lara - 375
Mahela Jayawardene - 374
Garfield Sobers - 365 (not out)