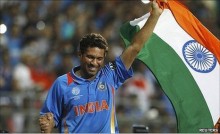 Currently, as of 2012, Sachin Tendulkar holds both the records for most test runs and for the most one day international runs in history. In addition, Tendulkar also holds the record for the most test and ODI centuries and is widely considered as one of the best batsmen of all time. He is known in the game by his nickname "the little master".
Due to his scintillating form in Indian school and first class cricket, Tendulkar was handed his test match debut against Pakistan in 1989 aged just 16. He is the most worshiped cricketer of all time, not only in India, but throughout the world; the phrase "Cricket is my religion and Sachin is my god" is commonplace amongst cricket fans.
As well as holding the records for most runs in test and ODI history Tendulkar also holds numerous other accolades including the most test and ODI games played and the first player to score 100 centuries in international cricket: A feat he achieved on 16th March 2012.
Most Test Match Runs (as of 2012)
Sachin Tendulkar: 15,470 (311 innings)
Rahul Dravid: 13,288 (286 innings)
Ricky Ponting: 13,200 (276 innings)
Jacques Kallis: 12,379 (257 innings)
Brian Lara: 11,953 (232 innings)
Most ODI Runs (as of 2012)
Sachin Tendulkar: 18,374 (451 innings)
Ricky Ponting: 13,704 (365 innings)
Sanath Jayasuriya: 13,430 (433 innings)
Inzamam ul Haq: 11,739 (350 innings)
Jacques Kallis: 11,498 (307 innings)