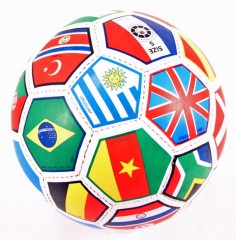 The term football refers to a large family of sports that all involve kicking a ball with the foot. There are many different forms of football, but the most popular in the world is Association Football, normally referred to as just "football" or "soccer".
The Ancient Origins of the Footballing Tradition
It is virtually impossible to pinpoint exactly when and where the seeds of the modern game were sown. However there are reliable accounts of games resembling football having been played in both the ancient Roman and Greek civilizations, and also in China, Japan and Korea at about the same time. Furthermore, there is evidence of ball-kicking sports being played by the indigenous peoples of Greenland, the Americas and Australia. These early ball sports all involved kicking a ball in one form or another, and although most of these early forms of football have now died out, it is likely that the Roman Empire spread one of these early ball games throughout Western Europe and the British Isles.
The Invention of Football As We Know It Today
Football-like games were subsequently popular with working class people around Europe and especially in England, where various forms of football had been played for hundreds of years. The rules of the game were eventually codified in 1848, when the Cambridge Rules were created following a meeting of English public schools at Trinity College, Cambridge.
Following the creation of the Cambridge Rules, other rules were adopted in different parts of England and, in addition, football clubs with no connection to the public schools at all soon began to crop up throughout the English speaking world. Eventually, the increasing number of different forms of football being codified throughout England lead to the establishment of the Football Association in an attempt to standardize the rules of football throughout England.
The Creation of Association Football
The FA first met in 1863 and, in its attempt to standardize public school football, created a rift which led to some schools leaving the FA and setting up the Rugby Football Association - thus leading directly to the creation of Rugby. The remaining eleven clubs in the FA went on to ratify the original thirteen laws of Association Football, which went on to become standardized throughout England by the end of the 1870s.
In 1904, FIFA was set up in Paris as the governing body of football throughout the world, and it decided to adopt the rules and regulations earlier codified by the English FA. The laws of the game are now determined by the International Football Association Board (IFAB).
Association Football is the most popular sport on the planet and it has been estimated that over 240 million people from more than 200 countries regularly play the 'beautiful game'. Football has the largest global television audience of any sport in the world.