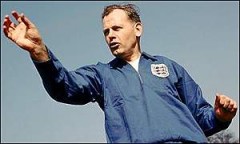 Sir Walter Winterbottom (1913 - 2002) was England's first international manager, a position he held from 1946 to 1962, managing England for a total number of 139 games with a 56% win record. He was England's longest serving and youngest manager. Winterbottom was succeeded by World Cup winning England manager Sir Alf Ramsey.
Walter Winterbottom was born in Lancashire, England, on the 31st of January 1913. He began playing football at an early age and was soon scouted to play for Mossley AFC.
Following a successfully season playing centre half for Mossley, Winterbottom soon attracted the attention of Manchester United who signed him the following season. Widely considered to be one of the most promising young English talents in the game, Winterbottom was given his debut for Manchester United in 1936. However, after only 27 appearances for United's first team, and still in the early stages of his career, he was forced to retire due to a disease of the spine.
During the second world war Winterbottom served as an officer in the Royal Air Force and, after he was demobilsed, the FA appointed him the first manager of the English National team, despite having no previous managerial experience in professional football. He went on to manage the team for 16 years and took England to four World Cup finals. He set up both England's youth and under 23 teams and, in 1978, Walter Winterbottom was awarded a knighthood for his services to sport. He died in 2002 at the age of 89.