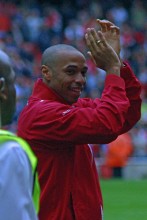 Born in Paris in 1977 Thierry Daniel Henry grew up playing football, and showed early goal scoring talent as he played in an array of local sides. As a result, Henry was scouted and signed by AS Monaco as a youngster, and went on to enjoy five successful seasons at the club.
In the 1998-99 season, Henry transferred to Italian side Juventus where he had a rather less impressive time. Despite this, Arsene Wenger, (who had managed Henry while he was with AS Monaco) decided to bring the player to his new club, Arsenal, where Henry made an instant impact.
Thierry Henry spent seven seasons at Arsenal, and became the club's all-time leading goal scorer by netting a total of 228 goals in 376 competitive appearances for the club. He was then bought by Barcelona for the 2007-08 season, and spent three years at the club before transferring to the major league soccer side: The New York Red Bulls. In the 2011-12 season, Henry made a brief return to Arsenal, on loan, before returning to the New York Red Bulls, for whom he still plays.