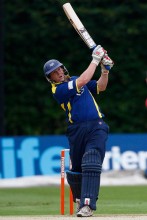 The record for the fastest century in a cricket World Cup currently belongs to Irishman Kevin O'Brien, who hit 100 runs off just 50 balls in an innings that included eight 6s and thirteen 4s. O'Brien came to the crease when Ireland were 106 for four trailing England's target of 327 in the 2011 World Cup group B game.
O'Brien went on to eclipse Matthew Hayden's 66 ball century and Ireland subsequently won the game in the final over. The victory was somewhat of a coup for Ireland considering that England are one of the top teams in the world and that O'Brien himself was relatively unknown outside of Ireland and the UK until this world class performance.   
Fastest World Cup Hundreds
Kevin O'Brien (Ireland) Vs England 2011: 50 balls faced.
Matthew Hayden (Australia) Vs South Africa 2007: 66 balls faced.
John Davison (Canada) Vs West Indies 2003: 67 balls faced.
Kapil Dev (India) Vs Zimbabwe 1983: 72 balls faced.
Adam Gilchrist (Australia) Vs Sri Lanka 2007: 72 balls faced.