The player generally conceded to have played in the most different  football 'derbies' is Nicolas Anelka.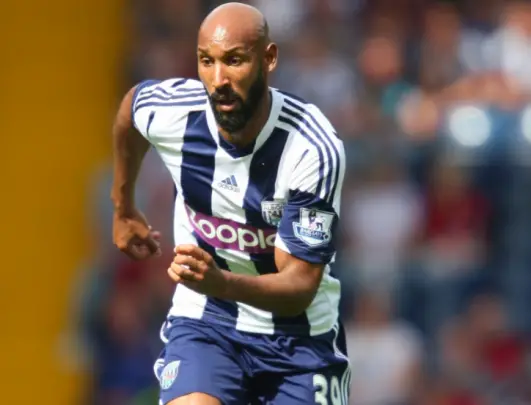 He began his career with Paris Saint-Germain when he was 16 and now at the age of 35 he has just signed for his 12th club, Mumbai FC in India. That's some going! 
Every club he's been to has got it derby rivals -  some have got more than one - Chelsea fans see matches between them, QPR and Fulham as derby matches, and when West Bromwich plays Wolves or Aston Villa, the fans turn out in their thousands to keep the old rivalries going!
Anelka's played in both the big Spanish and French derbies, El Clasico between Real Madrid and Barcelona, and Le Classique, between Paris St-Germain and Marseille.
Real Madrid v Athletico Madrid is also a big derby match - but I don't believe he was there when they played.
Below is a list of all the clubs he's played for and their derby opponents.
Manchester City          v              Manchester United (Manchester Derby)
Here he is scoring in the last ever derby match at Maine Road!
Liverpool                      v              Everton (Merseyside Derby)
Arsenal                         v              Tottenham Hotspur (N. London Derby)
Chelse                          v              QPR (West London Derby)
Chelsea                        v              Fulham (West London derby)
Paris St-German           v                Marseille (Derby de France)
Fenerbahce                  v                Galatasaray (Istanbul Derby)
Bolton Wanderers        v              Wigan Athletic (Lancashire Derby)
Real Madrid                   v              Barcelona (El Clasico) 
Real Madrid                   v              Athletico Madrid (Madrid Derby)
Juventus                        v              Torino (Turin Derby)
West Brom                     v              Wolves (Black CountryDerby)
West Brom                      v              Aston Villa (West Midlands Derby)
Shanghai Shenuha         v              Shanghai East Asia (Shanghai Derby)
Mumbai City                    v              Pune City (Maratha Derby)
It's unlikely that he turned out for Juventus when they played Torino, or played against Shanghai  East Asia when he was in China, and to date he hasn't played for Munbai FC. 
It will be good for him to experience  the passion of the Indian Super league. Here is a video showing what they can expect - if he's on form - and if he stays!
So there you have it - I doubt if there's another European footballer who can claim to have played more derby games than Nicola Anelka.