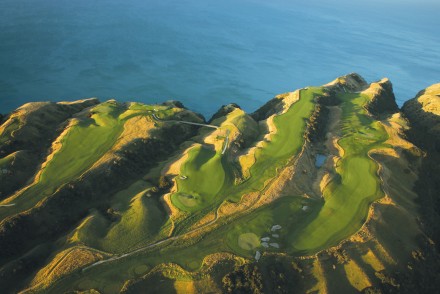 Whilst I haven't yet the pleasure of playing there, I'm going to nominate
Cape Kidnappers
in New Zealand.
The best golf course in the world
If there's one thing golf has that no other sport can boast - it's the beautiful sprawling emerald courses.
A course isn't just about the twists and turns, the bunkers and bogeys... It's a place that men and women across the world go to relax, socialize and unwind.
A golf course is an integral part of the game, a living, breathing, panorama on which the action takes place. Navigating a course means exploring its hidden nooks, and avoiding its perils just like a daring 14th century Magellan travelling through unchartered waters.
All this goes to explain why so much care and consideration is given to the way courses are designed and maintained, and Cape Kidnappers tops most people's lists.
The course was designed by American Tom Doak and, instead of sandy dunes, golfers have to contend with dizzying cliff tops.
Miss-hit balls take an eternity to reach the water when they drop off the cliff, and shooting towards the final green has been described as "shooting towards the end of the world".